Websites for Firearm Instructors
Firearm Instructors come to us because they need a website that works and generates business!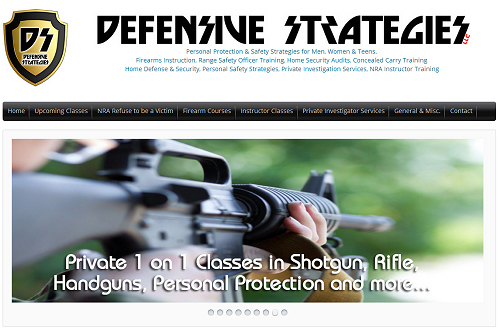 Choosing which digital agency to design your web site may be one of the most important business decisions you'll make.  i4Market is one of the best we found that produces Websites that gets results! If you're an SAFTD Instructor, an NRA Instructor or Training Counselor; i4Market will build you a complete website with full course descriptions, class registrations and payment modules. Your website will even write all new course registrations to the SAFTD and NRA Instructors website so you don't have to copy and paste. To view a sample website visit http://www.defensivestrategies.org - We have 3 packages to choose from below and part of the proceeds are donated back to the SAF Training Division.

Initial consulting and strategy planning, custom web site development, search engine optimization and registration for maximum exposure. Your business deserves a web site that attracts visitors and generates revenue. i4Market  will work with you from concept to completion and beyond. The design of your website is not only vital to your success, but to ours as well.  By listening to our customers needs ensures that we will have clients for life.
Whether you are planning to build a new website or revamp an existing website i4Market is your solution. 
Do you want your website to:
Be successful and in tune with your company's brand, image and style.
Soar above your competition?
Show your customers that you care by providing them with features and functionality that demonstrate you understand their needs?
Provide your content managers with a simple system for performing routine content updates?
Be scalable so it's ready to accommodate your business as it evolves and grows?
Be optimized for search engines with best practice strategies ?
Our experienced development team has all the tools and talent to deliver a powerful visual message while developing and marketing  your site to give you the competitive advantage. We have over 20 years of experience with designing great looking user-friendly websites. We have built many complex data driven websites and custom web applications. Our sites are always prepared for search engine optimization. 
Bottom Line - our websites are designed to work for you! 
We have a solution for your development needs, and by contacting us you will be one step closer to achieving those needs. We pride ourselves in customer satisfaction and in providing solutions that are cost effective and profitable.
All websites created by i4Market are cross browser compatible on Microsoft Internet Explorer, Opera, Mozilla, Firefox, and MSN Explorer are also tested at different screen resolutions on multiple operating systems. This ensures your site will look good no matter what operating system, cell phone, tablet, pc or screen resolutions your visitors are using.
We make your site a success, first and foremost, by providing a stunning design that typifies the critical components of your company's brand: professionalism, high-quality customer service, technical expertise, artistic elegance. We design sites that enhance and promote our clients' brands online, and engage and captivate those who come to visit.

Your site must be professional, visually appealing, and have navigational ease.  A properly designed site will proportionately increase your return on investment, usability and customer satisfaction.
Click one of packages below for more information!
What if one of your packages doesn't fit my business?
Many companies and organizations have requirements that go beyond what is available in a package deal. In those cases, we have powerful custom solutions  and an application framework that makes it easy for developers to create sophisticated add-ons that extend the power of the CMS into virtually unlimited directions.
Our core framework enables developers to quickly and easily build:
Inventory control systems
Data reporting tools
Application bridges
Custom product catalogs
Integrated e-commerce systems
Complex business directories
Reservation systems
Communication tools
Since our CMS is based on LAMP (Linux, Apache, MySQL & PHP) it makes building powerful applications on an open platform anyone can use, share, and support. Contact Us today to learn more.
How can I upgrade my package?

Upgrading from one package to a higher package is easy and can be done anytime after the initial website is completed or even during development by just paying the difference in the package price. Just let us know when you'd like to upgrade and we'll get it done for you as soon as possible.